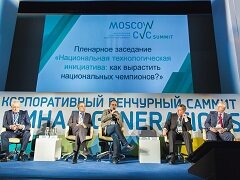 During three years we were organizing Moscow Corporate Venture Summit and talking about corporate venture investments. Star speakers, a variety of formats. In 2015, in conjunction with the Summit was held the final of the federal competition and accelerator GenerationS, which gathered ambitious startups from across the country.
In 2017, we will change the focus of the consideration of the problem. It is time to take a wider view on the subject of corporate venture capital investments and to talk about the innovative development of the company in general and the role of the innovation ecosystem in it.
The main conclusion of the National Report on Innovation 2016 is the following: until recently, innovation policy were focused a little on mature companies. Priority was given to areas giving deferred or limited effect: universities and science, improvement of the environment and the development of technology start-ups. It is time to focus on the corporate channel of creation the innovation and the focus on big business will lead to rapid and significant results.
The key theme of the Summit 2017 is business development. We will try to understand what the innovation ecosystem can give to companies today. Are all the resources that provides the innovation ecosystem, used by companies. Is it possible to increase their "accessibility" for companies. What kind of barriers arise, and how they can be removed. How do companies assess opportunities for development. How to "set up" the external ecosystem to support corporate innovation.
We will change the discussion format. Each parallel session (there will be three of them) will include, in addition to expert speakers, also discussion sessions. For each track we will invite external moderators and partners who understand these issues better than anyone else in the market. We want to give companies practical results: the analysis of case studies, identification of barriers and creation of solutions.
The organizer of the IV CVC Summit is Innovation and R&D Directors Club (iR&Dclub) in partnership with Mail.Ru Group, Russian Venture Company (RVC), Internet Initiatives Development Fund (IIDF), Aeroflot, NPO "Lift to the Future".
For an additional information please contact us: mail@corporateventuresummit.ru